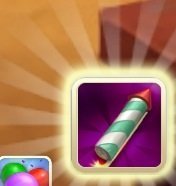 One of the most handy tools you have access to in Pet Rescue is the Firecracker, If you look to the bottom right of your screen you will find a little meter that needs to be fed with points, the bigger the combinations the better. Fill this meter by clearing bricks and a little firecracker appears, this little gem is very valuable, simply point it at the column you need to clear (like the one with the doe eyed puppy on top about to be tipped off) and this column including any metal boxes or glass cases will be destroyed..except for caged or locked bricks, they require unlocking first.
The good news is pets apparently love fireworks and quite happily bounce through the explosion and scurry off to the bottom (*note this does not apply in real life, most dogs are severe pyrotechnophobes!). Learning how to create these firecrackers quickly and efficiently and knowing when to use them and when to hang on to them is perhaps one of the major skills of this game!
You dont have to use your Firecracker as soon as it appears, its not going anywhere but just keep in mind that you can only have one at a time, any further points you earn will not be stored in the meter. You can only start earning another cracker once the first one has been set off. Because of this I like to set off my crackers as they appear. If you have a pet suck on a ledge of earth or pipe you can bump him off by placing a firecracker up the column to its left (Don't ask me why pets dont fall to the right!)
Setting off a cracker is simply a matter of either selecting the green tick, or if you change your mind and want to hang on to it just hit the red 'X'. Keep in mind that the blocks dont always fall straight down, they have a tendency to cascade into the space, which can often spoil your groove if you are trying to set up some big combinations. If blocks are at the bottom of the board with nothing above them to fill in the space they scoot over (again to the left) and join up with any other remaining blocks . This is very handy to keep in mind especially when you need to clear a certain percentage of blocks out of the way to fulfil your objective.
Things that go 'Boom

!

' ~ Pet Rescue Firecrackers

,