Now don't freak out! Level 43 Looks intimidating but its all bluff, your little fishies will be safe before you know it! The two objectives here are to save four pets (the fish are all you get) and earn a minimum of 24 000 points, peice of cake! …well it is if you use your strategies, otherwise this could get very messy!
Now you start the board with 30 moves and only three colours and what looks like a very limited board, work from the inside out. So in the case here on the left work your blue, yellow and then red, clearing these block sets should earn you enough points (or kudos) to fill your meter and spark up a firecracker (ah-ha moment!) and that is how you will smash the metal boxes out of the way.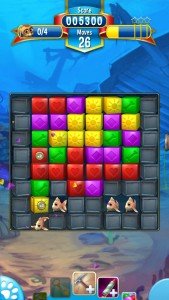 So you will need four Firecrackers all up and the most efficient way to earn these is to hit the big combinations, the more blocks of the same colour cleared at a time will ultimately earn you more points. Once you have a firecracker on the board use it to take out a box under one of your fish. (they all should be one metal box away from the bottom anyway!)
Don't go too fast on this level or you may find yourself running out of moves. Depending on what device or computer you are playing on it can take a little minute for the meter to collect and fill up with the floating sparkly stars that burst forth in celebration of you matching up some coloured blocks!…yeah seriously we get WE ARE AWESOME…now pass me the firecracker already!