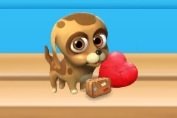 If you've committed to the Pet rescue voyage here are a few hints, tips and tricks to help you along your way!
Don't do everything you are told

! –

its just no fun..but its also relevant in this case

,

when you open up your pet saga game you are often met with a screen prompting you to send lives

,

moves or invites to friends

…

DO NOT send invites

,

seriously if someone is not playing by now they dont want to be

,

either that or they live under a rock

.

Send lives and moves to friends who are already playing

,

but sending out invites is just advertising for King and it upsets a lot of people

,

especially those who are not too tech savvy as they usually receive every notification as an email too

.
Use your moves

! –

Unlike Candy Crush and Papa Pear saga any left over moves in Pet Rescue saga don't get turned into a points bonus when your objectives are completed

,

once your pets are rescued and your points objective is met that's the end..thankyou for playing

,

move right along now

!

so if you really want to earn those three stars I suggest you work your last pet to the bottom and sit it on top of a fail proof group of blocks that you can clear with your very last move or if you have a firecracker to use you can always go with that

.
Knock your blocks off

! –

Metal boxes are pains in the neck

!

seriously cheers for that

!

there are only two ways to remove them from the board to

;

blow them up or knock them off

.

Using a bomb you can clear up to four boxes at a time or try to leave them at the top of a column to be tipped off once the screen moves down

.

There is nothing more frustrating than battling your way to the bottom only to find you have a cute and fluffy perched on a box

!
General Pet Rescue hints and tip

,